Claudio Cipolletti Srl – owner of LORETOgift brand – will attend the DEVOTIO Fair, exhibition of products and services for the religious world held in Bologna 8 to 11 October 2017, at the D9-E10 booth (Hall 33) and we have the real pleasure to give you a FREE TICKET in Digital format [print @ home], downloadable from this link (or clicking on the image below)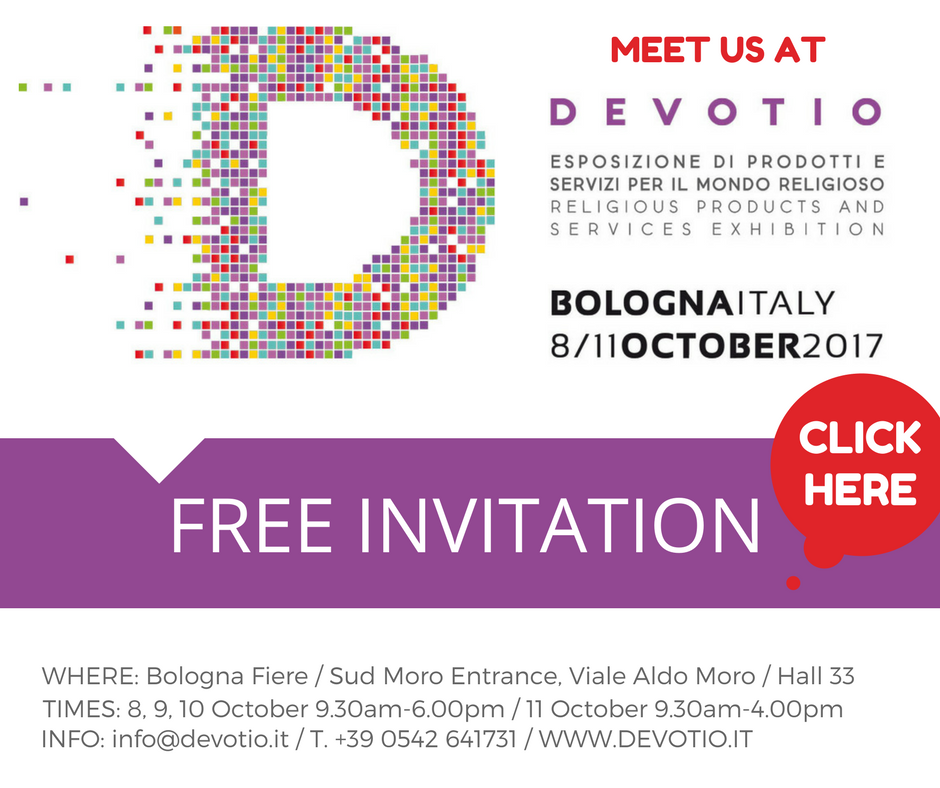 We look forward to seeing and touching you with all the novelties of our 2017-2018 collection and the latest news about LORETOgift brand.
DEVOTIO, THE NEW EXHIBITION DEDICATED TO RELIGIOUS PRODUCTS AND SERVICES
DEVOTIO, the new exhibition dedicated to religious products and services, was founded with the key objective of creating something innovative and concrete for the entire sector, to meet producers' needs, create the best conditions for matching supply and demand, and enhance personal relationships that are always a cornerstone and an essential element of a business's success.
DEVOTIO is an exhibition designed for business but not solely business, indeed over its four days DEVOTIO will be the meeting point for this important market, offering a complete overview of products and services. It will foster the sharing of experience and know-how and will provide a professional development opportunity for those already working in the sector, new entrepreneurs, professionals and church representatives.
MEETING PLATFORM AND SELECTION THAT COUNTS
DEVOTIO is a partner for the companies and operators of a profoundly changing market, that now needs new strategies to keep pace with the times, and new prospects to guarantee its future.
DEVOTIO aims to create a meeting platform for producers and selected buyers, enabling business growth through improved results.
BOLOGNA FIERE AT THE HEART OF THE BUSINESS
The Bologna Exhibition Centre extends over 375,000 sqm. of covered and outdoors areas.
Its total services area is 36,000 sqm. Its 18 halls are completely wired, air-conditioned and equipped with IT systems, and multiple events can be held simultaneously thanks to 5 separate entrances.
Flexibility and mobility indoors are ensured by a network of moving walkways and by a parking system with 14,500 covered parking spaces that can be reserved in advance.
BolognaFiere is the first exhibition centre with its own motorway tollbooth, part of a plan – along with a dynamic third lane – that aims to reduce congestion by providing entrance directly to the Fair, thereby avoiding the ring road.
BolognaFiere's strategic location guarantees the centre extremely convenient international links.
The complex is situated close to the city's international airport, to the main Italian motorway network and to the largest railway junction in Europe.
Service spaces provide a wide range of offers: to best cater to organizational requirements and functions, the service and numerous catering zones have been strategically positioned inside the fairgrounds.